Buying a old car?10 important things to know || Useful Hack
What should I check before buying a old car?
This topic is regarding what should you check before buying a old car. When you set your mind to purchase a old car then you should check the car thoroughly.
The condition of the car,
Driven KM
Millage
The condition of the engine
Is it accidental or not?
Tax paid or not
Fuel tank
Moreover, you need to check original purchase invoices, insurance, road tax receipt, and pollution certificate are other documents that are needed to be checked while buying a used car. If the car was financed, then form 35 and the financing company's NOC are also crucial. You need to keep in mind that any modification to the engine's displacement or a change in the color of the vehicle needs to be specified in the registration certificate.
Please don't forget to read this whole article before buying a used car.
Check the Car's Condition:
The car should be free from any major defects. You should go the extra mile to make sure the vehicle systems (like the brake, lighting, engine cooling, suspension, etc) are all in excellent condition. If you do this before buying a used car then you can save a lot of maintenance expenses in the long run. You can also try to get the car's major systems checked by a good mechanic.
You need to check the body of the car for signs of motor accidents ( chipped paint, dents, fender benders, rust, etc).
It is very important to take a ride before purchasing. You should drive around for at least 30 minutes or 5km to 10Km at different speeds. It would be helped you to figure out the overall health condition of the car.
Maintenance Records:
Some car owners strictly maintain the servicing records. They have all the required documents. On the other hand, some owners don't give too much attention to maintaining records. They can give you only verbal information regarding the number of visits to the service center in a year and the type of service performed on the particular car. So you need to clear all details through a detailed conversation with the seller regarding the car's maintenance history. You can check the car with an experienced mechanic thoroughly to get exact knowledge about the car's health.
Check Registration Certificate:
You need to verify the authenticity of the vehicle's registration certificate. You will get the owner's name and the car's details on it (like engine number, chassis number, etc). The certificate should be original. If it is a duplicate, it will be marked as DRC. If it's not an original one then please speak to the seller about the DRC status and check, in which state was the car registered. If you want to move the car to a different state then the car needs to be registered with that state's RTO (Regional Transport Office). Your name should appear on the vehicle's registration certificate after the purchase.
Car Insurance:
If you are thinking to purchase a second-hand car then the old car insurance should be transferred to the new owner's name. If the seller doesn't take the responsibility then buyers should take the charge to get it transferred. You may face some legal issues if the car insurance isn't transferred in the new owner's name. you will also not get any kind of benefits if the vehicle is involved in an accident or other unfortunate events.
You have to check if the active insurance policy is a Third-party Liability policy or a Comprehensive one. If you feel that you need to strengthen the existing insurance policy, then appropriate car insurance Add-ons can be considered while renewing. If you want then you can also get a new insurance policy for your car by discontinuing the existing one. If you are driving your car without a valid car insurance policy then it is a punishable offense in India. It's mandatory for you to have at least a Third-party insurance policy. The other option is to buy a wide-ranging Own Damage cover by opting for a Comprehensive policy.
Transfer of No Claim Bonus:
NCB is a No Claim Bonus. It is a reward for not filing a claim during the policy period. You can get a discount while renewing your car's Comprehensive insurance policy. Transfer of NCB can take place from the owner's old car to the same owner's new car but not from a seller to a buyer.
Paperwork:
Please check all kinds of documents and legal papers before making any commitment on it (like original invoices, receipts, and other paperwork). It will help you to get a clear view of the vehicle. You can also get knowledge about the car's true mileage not only that you can get accidental information also. Like previously the car has met with any accident or not. Moreover, you can get other vital information which is owner details (like how many times the car was bought and sold) from the Registration Certificate.
You should check the car details with the RC book and also need to check the service book to know if the original owner has paid all the taxes or not.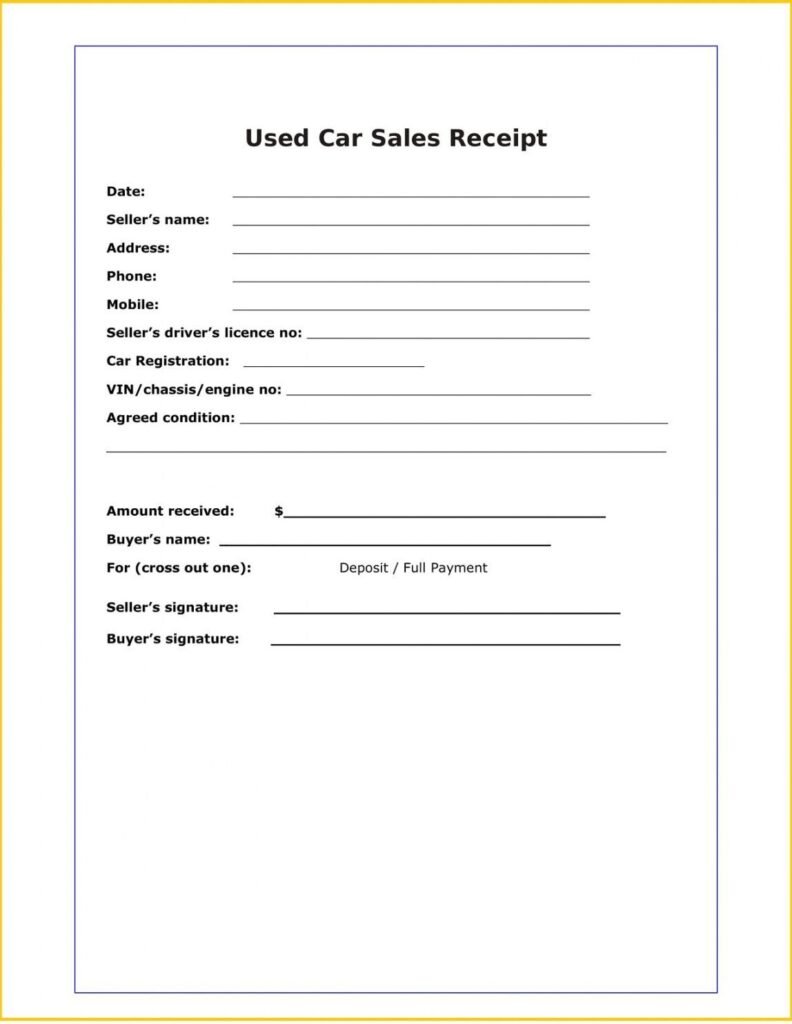 Transfer of car's ownership:
All documents should be transferred to the new owner's name (RC book, PUC certificate [Pollution Under Control], car's original invoice ). Please check if the insurance papers are in proper order. The owner's details have to be transferred legally. It should be paperwork to prevent any kind of issues if you want to sell the car again in the future. You will need these documents if you face any kind of accidental issue. All documents should be transferred from the official buyer to the seller and both parties must be signed on RTO forms 29 and 30.
Road Tax Receipt:
On purchasing a new car, you must pay the one-time road tax at the time of vehicle registration. So, before you buy a used car, check if the previous owner has paid the road tax. If you find that the tax has not been paid on time, you should avoid purchasing the vehicle since it might result in legal issues as well as the payment of a hefty fine that has accrued over time. Road taxes in India usually range from 2% to 18%, depending on the state.
Age of the Vehicle:
Generally, cars might misbehave after five years. After a few years, the used car might need to be repaired, and also maintenance costs will be increased. Comparatively, one can afford to buy a new car and not use it optimally but it can be counterproductive to purchase a used car without a long-term plan in mind. Think it through.
Note: As per me you can defiantly purchase a used car if the overall condition of that particular car is well maintained. All documents need to be cleared before buying a used car. Best wishes to all of you who are going to purchase a used car .